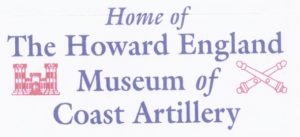 For over 30 years, Fort Zachary Taylor Historic State Park was the home to the museum built by Howard England.  He first began to pull together a museum in 1972 to showcase the various Civil War artifacts that the ongoing excavations at the Fort were uncovering.  He placed his first exhibits in the magazine level of Battery Osceola.  Later, when the Navy's Salvage Operation cleared out the Barrack, he cleaned and reconditioned the southern end rooms to provide a better environment to house the growing number of items in the Fort's collection.
In 1976, Howard England began an 8-year project to build scale models of each of the types and sizes of Civil War and Endicott Period artillery that had been emplaced in the Fort during its active years.  By the time he retired in 1984, his collection numbered over 20 scale models ranging in size from the 1/8th-scale model of the 8-inch Seacoast Mortar discovered in 1969 to a 1/8th-scale model of a cross-section of the original Fort from the bedrock all the way to the top of the terreplain level.  This model is the largest scaled model he ever constructed and was faithful in every dimension and detail all the way to the individual scale bricks he used to cover the model.  This model is over 8 feet tall and is visible to the left to the picture below.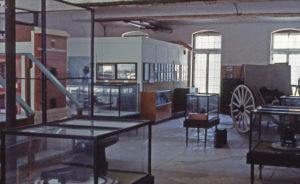 By the time he retired in 1984, Howard England had completed his museum.  The photograph at left illustrates the variety of artifacts, models, small arms, and photographs on display in the mid-1990s.  At right in the back of the picture are the 3-inch Field Gun and the Model 1905 Colt Gatling Gun each restored by Howard England between 1976 and 1983.  These were the centerpieces of the Museum at the time.
In the late 1990s, the Barrack Museum Rooms became too dangerous to continue their operation.  Some of the models were moved to the Fort East Martello Tower Museum while others were placed into storage.  In 2003 the Park Service and the Friends of Fort Taylor arranged to move some of the models to the newly shored up Sally Port where they remained on display until early 2008.  Following a series of hurricanes which struck Key West in 2005 and 2006, the Florida Department of Environmental Protection and the Bureau of Archaeological Research decided to move all iron artifacts, artillery pieces, gun carriages and chassis, records, drawings, and Howard England's museum models to Tallahassee until such time as a proper Visitor Center/Museum could be constructed at Fort Taylor.  It was a sad day in Key West when the museum was dismantled and carted away.
This web page is intended to showcase the models of Howard England until such time as they can be returned to Key West for proper display.